Alongside Castle Character Time, Castle Mead Academy further widens the range of opportunities for scholars to grow their skills and desired character traits so that they develop their whole self through our extra curricular, sporting and scholarship opportunities.
 CMA Cultural Enrichment Journey
The CMA Cultural Enrichment Journey is a pledge of cultural experiences, curriculum related trips and extra-curricular experiences that will be offered to all scholars to participate in during their five years at Castle Mead. Some experiences are fully funded for all scholars. Below is a list of experiences fully funded by CMA and offered to all scholars within each year group. We track the participation of scholars during their five years at CMA to ensure we are immersing each scholar to a range of experiences allowing them to develop their whole self.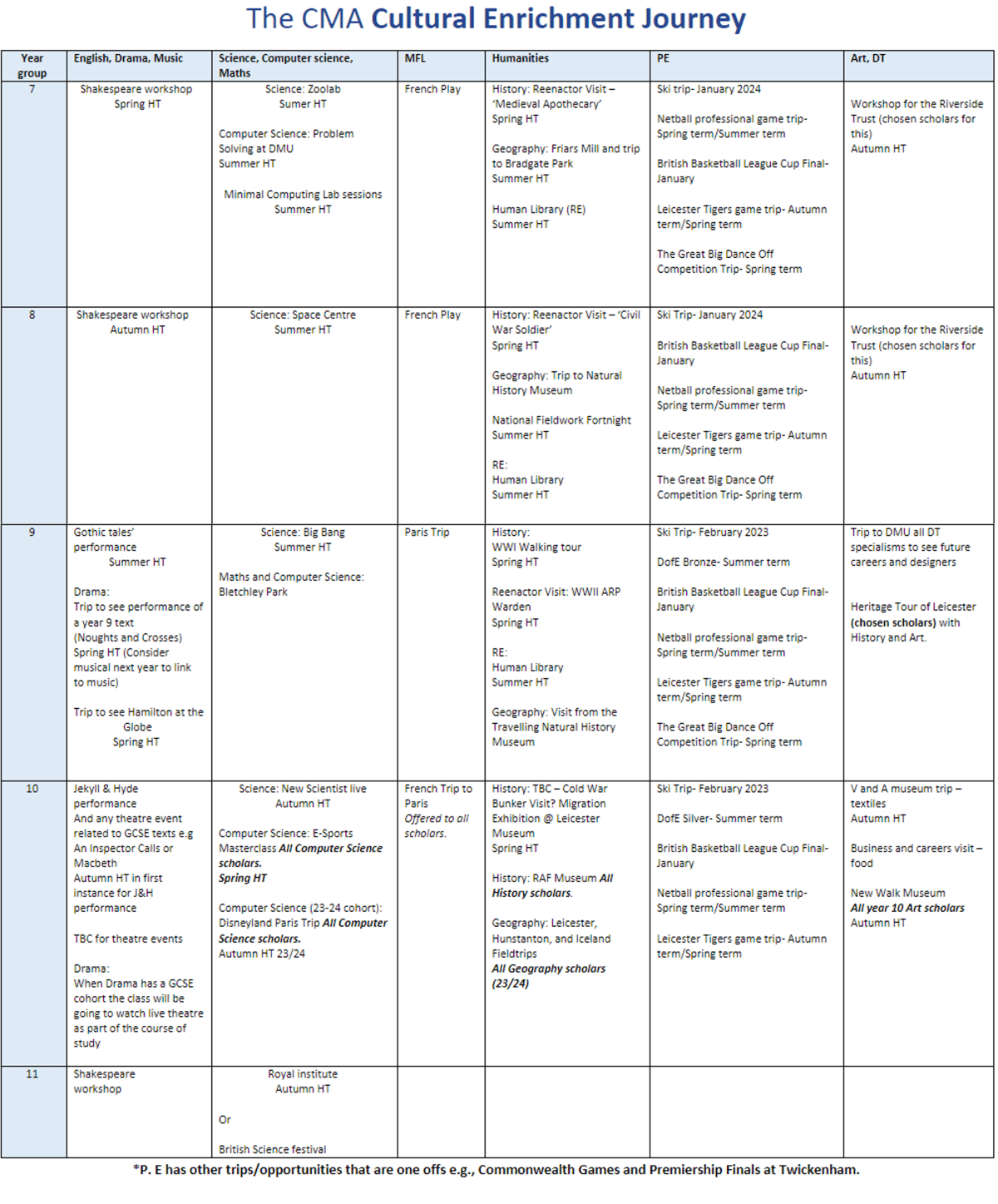 PE and Sporting
Castle Mead Academy subscribe to the Inspire Together school sports competitions. Inspire Together run and organise all the city schools secondary sports fixtures, Castle Mead compete within West Leicester competitions. In various sports Castle Mead progress through to the county rounds, where we will be the West Leicester representative. Below is a list of competitions we competed in with each team having a separate Girls and Boys team (with the exception of Girls only Netball);
Football
Basketball
Netball
Table Tennis
Badminton
Indoor Athletics
Athletics
Indoor Cricket
Cricket
Dance
Volleyball
Cross Country
Handball
Futsal
Rowing
Rounders
Outside of the Inspire Together fixtures we also compete in;
Basketball England Jr NBA Co-Ed Year 7 and Year 8
Basketball England Nationals U16 Co-Ed
We also run the Girls Active Programme from the Youth Sport Trust (YST) where girls have meetings to have their voices heard on how we can provide them with opportunities to participate and compete in sport and physical activity. The group have set up lunch time clubs for girls to play Badminton.
We have developed strong partnership links with local professional sports clubs who come into school to run afterschool clubs or coach in curriculum time. Leicester City FC, Leicester Riders and Leicester Tigers community coaches and staff are involved with our school every year. In addition to this we have strong links with local amateur clubs, such as Leicester Hockey, Dynamite Basketball and Leicester Rowing Club. We are then able to host their coaches for taster sessions to encourage our scholars to join their clubs outside of school.
Through the charity Greenhouse Sports we have been able to provide a holistic Basketball Programme for scholars; This includes extra-curricular clubs before, during and after the school day alongside mentoring during curriculum time. Further to this, we have been able to offer scholars the opportunity to play for the CMA Dragons through local and regional competitions like Jr. NBA (Year 7 + 8) and Dynamik National Schools Cup (KS4). The programme is also geared towards rewarding continued excellence through our Dragons Basketball Scholar programme and offering sessions 1-2-1 / small group sessions for scholars that are competing in the Basketball England Talent pathway, to elevate their knowledge of the game. In the first year of the Greenhouse Sports Basketball Prog. At CMA, we have engaged over 100+ scholars, with 60 scholars partaking in 2+ sessions a week. The continued aim is to provide our scholars the opportunity to get involved with the game of basketball, use it as a tool to develop their character and support excellence on + off the court.
Rowing Scholarships
Castle Mead Academy has forged a relationship with Leicester Rowing Club which has allowed us to create a Rowing Scholarship Programme. Through the support of The Henley Royal Regatta Charitable Trust, Scholars will receive weekly term time training led by expert coaches and skilled scullers. Once committed to the programme, scholars will receive a kit package to strengthen the sense of belonging within the team and begin building towards races and regattas. The aim is simple, to provide an opportunity, unique in the region to our scholars for them to build their character and broaden their experiences.
Music Scholarships
Castle Mead Academy offers an annual Music Scholarship opportunity for every Year 7 cohort and recognises the power of music to engage and inspire scholars to develop a love of music and their talent as musicians, but also music's power to increase the self-confidence, creativity, social skills, attendance, achievement and sense of achievement of those who immerse themselves in a musical environment. Each Music scholar selects the orchestral instrument of their choice and Castle Mead Academy funds their musical instrument, weekly instrument lesson, ABRSM music examinations. Scholars then become part of the Academy's musical ensembles including orchestra, string group and wind ensemble.
Drama Enrichment/Extra-Curricular
Our school productions (2022 – Oliver!, 2023 – We Will Rock You!) offer scholars a range of opportunities to build their confidence in singing, dancing and acting. Within the school productions there is also the opportunity for scholars to get involved in a variety of backstage and supporting roles such as lighting, sound, set, costume, make up, front of house and stage management.
Our alliance with the Curve Theatre also allows scholars a wealth of opportunities within the field of Theatre. Our CYCC hub allows 24 scholars in Year 8-10 the opportunity to take part in in-school workshops with professional practitioners from the theatre each week, visit the theatre to watch shows and take part in Theatre Days at the Curve. Scholars are also given the amazing opportunity to perform at the Curve's studio space in front of a live audience.
Throughout the school year scholars are also given the opportunity to watch live theatre, this year scholars from Year 9 and Year 10 will be visiting London to see 'Hamilton' and our CYCC scholars will also be watching National Theatre's "Ocean at the end of the lane". Scholars in Year 9 will also be visiting the Curve in March to watch 'Noughts and Crosses' which will give scholars an opportunity to see a play they have studied as part of their Drama curriculum.
The Duke of Edinburgh Award
During their time at Castle Mead Academy, scholars can undertake the Bronze award in Year 9 and the Silver award in Year 10. The Duke of Edinburgh's Award is a life-changing adventure that will not only add to the CVs and university applications of those scholars involved, but also allows them to build on their teamwork skills, survival skills, and allows them to learn new skills they would otherwise have not experienced. We have a 100% pass rate for Bronze and we have just launched Silver this year. 12% of the cohort in Year 9 are enrolled on Bronze and 12% of the cohort in Year 10 are enrolled on Silver. We have PP funding and bursaries available to breakdown barriers to participation. We also have expedition equipment so the scholars can complete the expedition not have to buy any additional clothing or equipment.