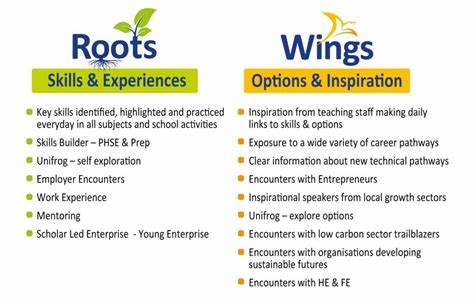 At Castle Mead Academy, our careers programme is experienced as a rich culture that shines throughout the school. Strong leadership drives an inspirational, progressive programme that offers every scholar key life skills and valuable experience of the world of work. Scholars are inspired to explore a wide variety of options and future pathways.
The Roots & Wings programme aims to support the aspirations of all our scholars and to everyone with regular access to employers, career guidance and work experiences to support scholars in making progress and succeed in learning and work. We believe that careers education supports the functioning of our social mobility at grassroots level.
Our Careers Leader, Mrs D Walker, is suitably experienced and qualified to lead our careers strategy at Castle Mead. If you have any queries regarding careers at Castle Mead, please do direct them to Mrs Walker in the first instance ([email protected]).
This is to be reviewed in 2023.
Careers Education Review
This is to be reviewed in Autumn 2022. The Careers programme is constantly under review and refinement. A formal, annual review takes place every Autumn term when we publish the intended careers programme for the academic year ahead.
Destinations Data
Currently there isn't Year 11s leaving school, we will have leavers destination report available from 2025. We will be holding evaluations regularly with Scholars and Parents to enable us to enhance our Careers programme and the delivery of the events.
Compass Audit Deadlines for 2022 – 2023
Friday 16th December 2023
Friday 31st March 2023
Friday 14th July 2023